Book of the Month - December 2018
This novel from Albert Camus (translated by Diarmuid Ó Gráinne) is December's book of the month on Clubleabhar.com.

Ní léite go pléite!
Discussion forum
The discussion forums are only available to registered members. Registration is free.
21 messages
Posted in this book's forum.
1204 messages
Posted in all forums to date.
If you are already registered, you can log in at the top of this page.

Glossary of the book
Available to registered members only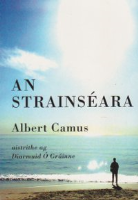 An Strainséara
ISBN 6660012120321
An Strainséara (The Stranger) Published in 1942 was soon recognised as one of the more famous novels of the age and it has not faded much since. This version was translated by Diarmaid O Ghráinne.