Book of the Month - October 2020
A wonderful Irish translation of John Steinbeck's classic 'Of Mice and Men' is October's book of the month on Clubleabhar.com.

Ní léite go pléite!
Discussion forum
The discussion forums are only available to registered members. Registration is free.
10 messages
Posted in this book's forum.
1205 messages
Posted in all forums to date.
If you are already registered, you can log in at the top of this page.

Glossary of the book
Available to registered members only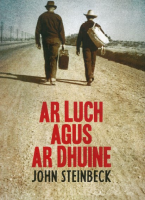 Ar Luch agus Ar Dhuine
(Of Mice and Men)
Driſters in search of work, George and his childlike friend Lennie, have nothing in the world except the clothes on their back — and a dream that one day they will have some land of their own. Eventually they find work on a ranch in California's Salinas Valley, but their hopes are dashed as Lennie — struggling against extreme cruelty, misunderstanding and feelings of jealousy — becomes a victim of his own strength.