Book of the Month - December 2011
The new collection of short stories by the author of An tAthair Pádraig Ó Duinnín – Bleachtaire, Biddy Jenkinson is the book of the month for December on ClubLeabhar.com.

Ní léite go pléite!
Discussion forum
The discussion forums are only available to registered members. Registration is free.
4 messages
Posted in this book's forum.
1205 messages
Posted in all forums to date.
If you are already registered, you can log in at the top of this page.

Glossary of the book
Available to registered members only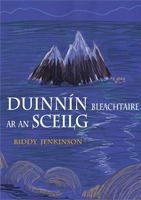 Duinnín Bleachtaire ar an Sceilg
ISBN 66012110391