Book of the Month - October 2014
Oileán an Órchiste le Robert Louis Stevenson, translated into Irish by Darach Ó Scolaí, is the book of the month for October on ClubLeabhar.com.

Ní léite go pléite!
Discussion forum
The discussion forums are only available to registered members. Registration is free.
0 messages
Posted in this book's forum.
1204 messages
Posted in all forums to date.
If you are already registered, you can log in at the top of this page.

Glossary of the book
Available to registered members only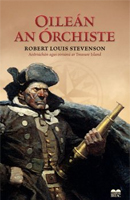 Oileán an Órchiste
Aistriúchán agus Oiriúnú ar Treasure Island
ISBN 978-1-909907-40-9
Treasure Island by Robert Louis Stevenson is one of the best known adventure novels ever written. This exciting and atmospheric story tells of treasure maps, mutiny, buccaneers, pirate gold, and of Jim Hawkins, a boy in his teens who puts to sea under the spell of the one-legged charming scoundrel Long John Silver.
This beautiful translation and abridged for modern-day readers by Darach Ó Scolaí is accompanied by NC Wyeth's renowned Illustrations from the 1911 edition.