Book of the Month - May 2010
Anna Heussaff's novel Cúpla Focal is the fifth book chosen for discussion on ClubLeabhar.com.

Ní léite go pléite!
Discussion forum
The discussion forums are only available to registered members. Registration is free.
37 messages
Posted in this book's forum.
1205 messages
Posted in all forums to date.
If you are already registered, you can log in at the top of this page.

Glossary of the book
Available to registered members only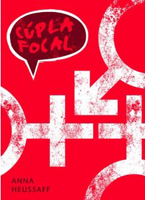 Cúpla Focal
ISBN 978-1-901176-76-6
ClubLeabhar.com - Book of the Month, May 2010
Light romance fiction from the author of prize-winning novel Bás Tobann. Love and mystery. Secret lives. In the Irish conversation class for adults, much is left unsaid.
Caoimhe is getting friendly with her teacher, Neasán. But Neasán's attention has turned, it seems, to Aisling. In the course of one evening, hard lessons have to be learned about hope, heartbreak and the fickle power of words.
There's more information on the book available on the publisher's website, www.coislife.ie.