Book of the Month - September 2015
L'Attaque by Eoghan Ó Tuairisc is the book of the month for September on ClubLeabhar.com.

Ní léite go pléite!
Discussion forum
The discussion forums are only available to registered members. Registration is free.
15 messages
Posted in this book's forum.
1205 messages
Posted in all forums to date.
If you are already registered, you can log in at the top of this page.

Glossary of the book
Available to registered members only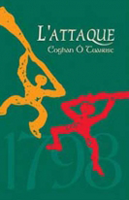 L'Attaque
ISBN 9780853425458
L'Attaque recounts the part played by a small group of United Irishmen from County Leitrim in the military revolt which was sparked by the landing of French General Humbert in Killala, County Mayo, in 1798.
Through the character of Máirtín, Ó Tuairisc's novel brilliantly charts the effect of revolutionary fighting on peasant life, the conflicting ideals of the comrades-at-arms and the disorganisation that afflicts their army.