Book of the Month - September 2017
The Irish translation of Robert Louis Stevenson's famous novel is the book of the month for September on ClubLeabhar.com.

Ní léite go pléite!
Discussion forum
The discussion forums are only available to registered members. Registration is free.
10 messages
Posted in this book's forum.
1204 messages
Posted in all forums to date.
If you are already registered, you can log in at the top of this page.

Glossary of the book
Available to registered members only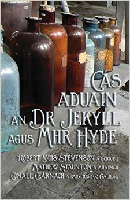 Cás aduain an Dr Jekyll agus Mhr Hyde
ISBN 978-1-78201-075-3
'Cás aduain an Dr Jekyll agus Mhr Hyde' is the original title of a novella written by the Scottish author Robert Louis Stevenson that was first published in 1886. It is about a London lawyer named Gabriel John Utterson who investigates strange occurrences between his old friend, Dr. Henry Jekyll, and the evil Edward Hyde.