December Book of the Month 2021
December's book of the month on Clubleabhar.com is one of the world's best-known Christmas books.

Ní léite go pléite!
Discussion forum
The discussion forums are only available to registered members. Registration is free.
9 messages
Posted in this book's forum.
1205 messages
Posted in all forums to date.
If you are already registered, you can log in at the top of this page.

Glossary of the book
Available to registered members only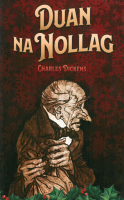 Duan Na Nollag

Oiriúnach do Mheánrang 2/B2 nó níos airde
Suitable for Upper Intermediate/B2 or higher
ISBN 9781911363385
A Christmas Carol by Charles Dickens, is one of the world's best-known books. First published in 1843, A Christmas Carol tells the story of Ebenezer Scrooge, an old miser who is visited by the ghost of his former business partner Jacob Marley and the Ghosts of Christmas Past, Present and Yet to Come. After their visits Scrooge is transformed into a kinder, gentler man. Duan na Nollag was translated by the famous lexicographer Patrick Dineen, and edited and adapted for young readers by Maitiú Ó Coimín, and this beautiful new hardback edition is beautifully illustrated by Arthur Rackham.