Book of the Month – May 2011
The detective story Rún an Bhonnáin by Proinsias Mac a' Bhaird is the book of the month for May on ClubLeabhar.com.

Ní léite go pléite!
Discussion forum
The discussion forums are only available to registered members. Registration is free.
7 messages
Posted in this book's forum.
1205 messages
Posted in all forums to date.
If you are already registered, you can log in at the top of this page.

Glossary of the book
Available to registered members only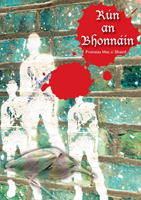 Rún an Bhonnáin
ISBN 9780955721748
ClubLeabhar.com - Book of the Month, May 2011
A killer is loose! The victims, sean-nós singers! Why, is anybody's guess. The only clue is a strange connection with Cathal Buí Mac Giolla Ghunna, poet and composer of the famous song 'An Bonnán Buí'. A secret long lost in the mists of time has devastating consequences for today. How long will it remain hidden and to what lengths will some go to protect the secret of the Bonnán?