Book of the Month - May 2013
Seán Mac Mathúna's short novel, Gealach, is the book of the month for May on ClubLeabhar.com.

Ní léite go pléite!
Discussion forum
The discussion forums are only available to registered members. Registration is free.
0 messages
Posted in this book's forum.
1205 messages
Posted in all forums to date.
If you are already registered, you can log in at the top of this page.

Glossary of the book
Available to registered members only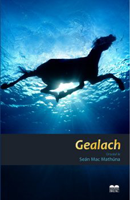 Gealach
ISBN 9780898332636
On the La Toure family farm in Nova Scotia lives Gealach, one of the best race horses in Canada. While being transported across the harbour in a boat, Gealach falls in the sea. In the heavy fog the horse disappears from sight. Life on the farm is turned upside down.
The twins, Jack and Liz, refuse to believe that Gealach has drowned and go in search of the horse. But time is running out: they have mounting debt on the farm and, without Gealach, they will lose their home and everything they own. Not only that, but Gealach is with foal, and if she's still alive they must find her quickly!
This novel was awarded an Oireachtas Literary Prize in 2010.