Book of the Month - December 2013
An Fear a Phléasc, Micheál Ó Conghaile's explosive collection of short stories is the book of the month for December on ClubLeabhar.com.

Ní léite go pléite!
Discussion forum
The discussion forums are only available to registered members. Registration is free.
0 messages
Posted in this book's forum.
1205 messages
Posted in all forums to date.
If you are already registered, you can log in at the top of this page.

Glossary of the book
Available to registered members only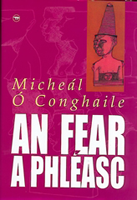 An Fear a Phléasc
ISBN 1-874700-79-6
A new world is created here by Micheál Ó Conghaile, a world which has never existed and never will exist – but a world which is, nevertheless, uncannily familiar ... stress, worry, irrationality and wit abound. Self-identity and man's raison d'être are explored in this work.
Micheál Ó Conghaile reading an extract from An Fear a Phléasc, December's book of the month on ClubLeabhar.com.