Book of the Month - February 2015
I dTír Strainséartha, Liam Mac Cóil's epic novel, is the book of the month for February on ClubLeabhar.com.

Ní léite go pléite!
Discussion forum
The discussion forums are only available to registered members. Registration is free.
4 messages
Posted in this book's forum.
1205 messages
Posted in all forums to date.
If you are already registered, you can log in at the top of this page.

Glossary of the book
Available to registered members only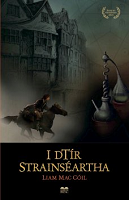 I dTír Strainséartha
ISBN 978-1-909907-53-9
THE SECOND BOOK IN THE 'LÚCÁS Ó BRIAIN' SERIES (An Litir). The Atlantic port of Galway 1612, Lucás, a young student and a gifted swordsman, is entrusted by a shady Jesuit priest with an important letter to be delivered into the hands of Aodh Mór Ó Néill, Earl of Tyrone (leader of the Irish chieftains in Rome seeking the help of Philip of Spain to retake Ireland from the English) . Lúcás's mission will take him on a perilous journey across Europe. Following hot on his heels, in the narrow streets of the city, is the enemy's most devious and brutal spy - with orders to stop him, at all costs.
The second of a trilogy of novels that will traverse Europe on the company of Lúcás Ó Briain in the early years of the 16th Century hAoise, with the enemy snapping at our heels.