Book of the Month - May 2015
Salann Garbh, Joe Steve Ó Neachtain's collection of short stories is the book of the month for May on ClubLeabhar.com.

Ní léite go pléite!
Discussion forum
The discussion forums are only available to registered members. Registration is free.
2 messages
Posted in this book's forum.
1205 messages
Posted in all forums to date.
If you are already registered, you can log in at the top of this page.

Glossary of the book
Available to registered members only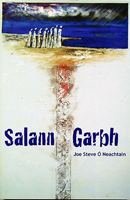 Salann Garbh
ISBN 978-1-905560-55-4
A deeply personal and compelling collection of short stories from Joe Steve Ó Neachtain addressing issues such as domestic violence, faith and land ownership. An enjoyable, insightful and compelling read.