Book of the Month - June 2015
The beautiful travel book Splancanna ó Shaol Eile by Alex Hijmans is June's book of the month on ClubLeabhar.com.

Ní léite go pléite!
Discussion forum
The discussion forums are only available to registered members. Registration is free.
0 messages
Posted in this book's forum.
1205 messages
Posted in all forums to date.
If you are already registered, you can log in at the top of this page.

Glossary of the book
Available to registered members only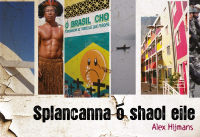 Splancanna ó shaol eile
ISBN 9-781907-494376
One hundred photographs. One hundred short essays. A faraway country in words and pictures, unknown ... but in the right at the heart of the world market.
Here's your invitation to get to know Brazil – to really get to know it, to avoid the clichés. In this book Alex Hijmans, a foreign correspondent in the country since 2007, shows you insights into Brazil that aren't found on the postcards.