Book of the Month - October 2015
Í Siúd by Siobhán Ní Shúilleabháin is the book of the month for October on ClubLeabhar.com.

Ní léite go pléite!
Discussion forum
The discussion forums are only available to registered members. Registration is free.
0 messages
Posted in this book's forum.
1204 messages
Posted in all forums to date.
If you are already registered, you can log in at the top of this page.

Glossary of the book
Available to registered members only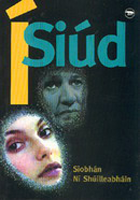 Í Siúd
ISBN 1-902420-03-9
Í Siúd tells it as it is. Ní Shúilleabháin portrays Ireland at the turn of the century and does so with startling accuracy and perception. She exposes multifaceted Ireland as we know it; rural, urban or urbane.