Book of the Month - December 2016
An Fuadach, Darach Ó Scolaí's translation of Kidnapped by Robert Louis Stevenson, is the book of the month for December on ClubLeabhar.com.

Ní léite go pléite!
Discussion forum
The discussion forums are only available to registered members. Registration is free.
11 messages
Posted in this book's forum.
1205 messages
Posted in all forums to date.
If you are already registered, you can log in at the top of this page.

Glossary of the book
Available to registered members only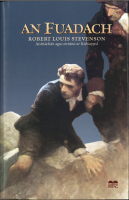 An Fuadach
Robert Louis Stevenson
ISBN 978-1-909907-65-2
Kidnapped by Robert Louis Stevenson is one of the best known adventure novels ever written. This is the exciting story of David Balfour, a young man whose uncle Ebeneazer wishes to kill and to steal his inheritance. Through his friendship with Jacobite swordsman Alan Breck Steward he escapes the fate his uncle had in store for him - only to find that he must cross the Scottish Highlands in the company of a rebel who has a price on his head, with the red coats on their heels.
Kidnapped is widely recognised as Stevenson's greatest novel, and was referred to by Henry James as ' the particular crown and triumph of the artist'..
This beautiful translation and abridged for modern-day readers by Darach Ó Scolaí is accompanied by NC Wyeth's renowned Illustrations from the 1913 edition.