Book of the Month - November 2017
Ré Ó Laighléis's hilarious book is November's book of the month on Clubleabhar.com.

Ní léite go pléite!
Discussion forum
The discussion forums are only available to registered members. Registration is free.
11 messages
Posted in this book's forum.
1205 messages
Posted in all forums to date.
If you are already registered, you can log in at the top of this page.

Glossary of the book
Available to registered members only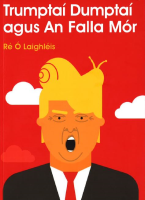 Trumptaí Dumptaí agus An Falla Mór
ISBN 9780957365919
Well ... Donald J. Trump wants to build a wall to keep the Mexicans from entering the US ... Two Galway men, Rónán agus Fionntán Ó Conghaile, are very surprised when they get a call from the White House in their office in Boston one day. Donald J. Trump wants 'R & F Ó Conghaile Teo.' to build the wall and they will … Is leathbhádóir liteartha nádúrtha é an saothar nua seo le 'Osama, Obama, Ó, a Mhama!', atá anois sa 3ú Cló agus a bhfuil ard-éileamh air i gcónaí. Ré Ó Laighléis is the author of 'Osama, Obama, Ó, a Mhama!', which is now in its 3rd Print and continues to be a best seller.