Book of the Month - March 2018
A story about a woman who loses her memory is March's book of the month on Clubleabhar.com.

Ní léite go pléite!
Discussion forum
The discussion forums are only available to registered members. Registration is free.
16 messages
Posted in this book's forum.
1204 messages
Posted in all forums to date.
If you are already registered, you can log in at the top of this page.

Glossary of the book
Available to registered members only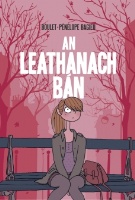 An Leathanach Bán
ISBN 978-1-911363-19-4
Sitting on a bench in Paris, a young woman tries to remember how she got there and just who exactly she is.