Book of the Month - October 2018
A story about a young woman's complicated life and the challenges of family, friendship and music is October's book of the month on Clubleabhar.com.

Ní léite go pléite!
Discussion forum
The discussion forums are only available to registered members. Registration is free.
18 messages
Posted in this book's forum.
1204 messages
Posted in all forums to date.
If you are already registered, you can log in at the top of this page.

Glossary of the book
Available to registered members only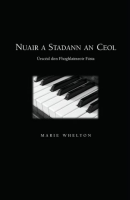 Nuair a Stadann an Ceol
Úrscéal don Fhoghlaimeoir Fásta
ISBN 9-780957-159358
After some time spent in the working world, Róisín is back at college again, this time to become a Primary School teacher. She has new friends and is playing plenty of music but has her share of personal difficulties too.
This is a novel about the gifts and challenges of family, friendship and music.