Book of the Month - May 2012
We've chosen Beirt Bhan Mhisniúla by Pádraig Ó Siadhail as the book of the month for May. This work won the prize for Best Novel – Literary Fiction in the Oireachtas Literary Competition in 2010.

Ní léite go pléite!
Discussion forum
The discussion forums are only available to registered members. Registration is free.
1 messages
Posted in this book's forum.
1205 messages
Posted in all forums to date.
If you are already registered, you can log in at the top of this page.

Glossary of the book
Available to registered members only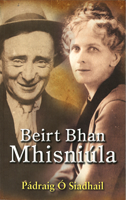 Beirt Bhan Mhisniúla
ISBN 9781905560745
ClubLeabhar.com - Book of the Month, May 2012
Pádraic Ó Conaire, a central figure in contemporary Irish-language literature, and two of the women in Ó Conaire's life (Caitlín Ní Aodha and Mary Morrison) are the central characters in this novel.
In a novel that draws on two of the major themes from Ó Conaire's own writings, love and betrayal, it falls to the second of the women, Mary Morrison, to come to the aid of the man who has failed her friend Caitlín, and to put Ó Conaire to the test, both as a man and as a writer.