Book of the Month - October 2012
Seán Ó Ríordáin: Na Dánta is the October's book of the month on ClubLeabhar.com.

Ní léite go pléite!
Discussion forum
The discussion forums are only available to registered members. Registration is free.
1 messages
Posted in this book's forum.
1205 messages
Posted in all forums to date.
If you are already registered, you can log in at the top of this page.

Glossary of the book
Available to registered members only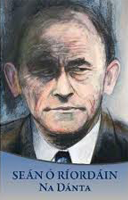 Seán Ó Ríordáin: Na Dánta
ISBN 9781905560738
ClubLeabhar.com - Book of the Month, October 2012
Seán Ó Ríordáin was one of the great Irish language poets of the twentieth century. This book gathers together all of his published poems under one cover for the first time: the three collections published during his lifetime, Eireaball Spideoige (1952), Brosna (1964) and Línte Liombó (1971), as well as his posthumous collection, Tar Éis mo Bháis (1978).
An extract read by Liam Ó Muirthile