Book of the Month - March 2015
An Leon, an Bandraoi agus an Prios Éadaí (The Lion, the Witch and the Wardrobe) by C.S. Lewis, translated into Irish by Antain Mac Lochlainn, is the book of the month for March on ClubLeabhar.com.

Ní léite go pléite!
Discussion forum
The discussion forums are only available to registered members. Registration is free.
7 messages
Posted in this book's forum.
1205 messages
Posted in all forums to date.
If you are already registered, you can log in at the top of this page.

Glossary of the book
Available to registered members only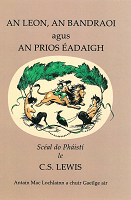 An Leon, an Bandraoi agus an Prios Éadaigh
Scéal do Pháistí le C.S. Lewis
ISBN 9781857918885
The Lion, the Witch and the Wardrobe is a novel for children written by C.S.Lewis, the first of the seven novels published in The Chronicles of Narnia series (1950–1956). In 1940, four siblings are among many children evacuated from London during World War II to escape the Blitz and are sent to the countryside to live with relatives. NARNIA, the land beyond the wardrobe, the secret country known only to Peter, Susan, Edmund, and Lucy, the place where the adventure begins. Lucy is the first to find the secret of the wardrobe in the professor's mysterious old house. At first, no one believes her when she tells of her adventures in the land of Narnia. But soon the others discover the Magic and meet Aslan, the Great Lion, for themselves. In the blink of an eye, their lives are changed forever. This is a wonderful translation by Antain Mac Lochlainn of C.S.Lewis's famous work.