Book of the Month - November 2015
Cogadh na Reann (War of the Worlds) by H.G. Wells, translated into Irish by Leon Ó Broin, is the book of the month for November on ClubLeabhar.com.

Ní léite go pléite!
Discussion forum
The discussion forums are only available to registered members. Registration is free.
22 messages
Posted in this book's forum.
1205 messages
Posted in all forums to date.
If you are already registered, you can log in at the top of this page.

Glossary of the book
Available to registered members only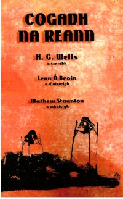 Cogadh na Reann
ISBN 9781782010999
This is the first-person narrative of an unnamed protagonist in Surrey and that of his younger brother in London as Earth is invaded by Martians. Written between 1895 and 1897, it is one of the earliest stories that detail a conflict between mankind and an extraterrestrial race. The novel is one of the most commented-on works in the science fiction canon.