Book of the Month - June 2016
Réics Carló ar Oileán Mhanann, Cathal Ó Sándair's detective novel, is the book of the month for June on ClubLeabhar.com.

Ní léite go pléite!
Discussion forum
The discussion forums are only available to registered members. Registration is free.
11 messages
Posted in this book's forum.
1204 messages
Posted in all forums to date.
If you are already registered, you can log in at the top of this page.

Glossary of the book
Available to registered members only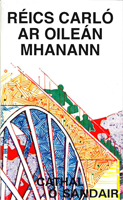 Réics Carló ar Oileán Mhanann
Criminals are not safe when a certain detective is around. Réics Carló - there is no stopping him. When on holidays with his daughter Fionnuala on the Isle of Man a murder occurred. Leave it to Réics to catch the murderer.