Book of the Month - January 2017
Danny Seaimpín an Domhain, Muiris Ó Raghallaigh's translation of Danny the Champion of the World by Roald Dahl, is the book of the month for January on ClubLeabhar.com.

Ní léite go pléite!
Discussion forum
The discussion forums are only available to registered members. Registration is free.
10 messages
Posted in this book's forum.
1205 messages
Posted in all forums to date.
If you are already registered, you can log in at the top of this page.

Glossary of the book
Available to registered members only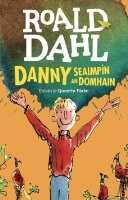 Danny Seaimpín an Domhain
ISBN 978-1-909907-87-4
Danny, the Champion of the World is one of Roald Dahl's most popular children's books.
The story is about Danny, a young boy, and his father, William, who live in a gypsy caravan fixing cars for a living and partake in in poaching pheasants, and the plot is centred on the moral dilemma faced by good people who do 'bad things', and ultimately shows that one can bring about change by small actions. The book was made into a film in 1989 and has been translated into dozens of languages.