Book of the Month - June 2017
Íbíotsa, Labhrás Ó Finneadha's colection of short stories, is the book of the month for June on ClubLeabhar.com.

Ní léite go pléite!
Discussion forum
The discussion forums are only available to registered members. Registration is free.
0 messages
Posted in this book's forum.
1204 messages
Posted in all forums to date.
If you are already registered, you can log in at the top of this page.

Glossary of the book
Available to registered members only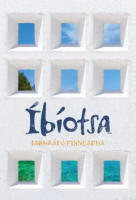 Íbíotsa
ISBN 978-1-907494-53-6
Go to Ibiza for two weeks and you will see it all: shameless days on the beach; lustful long slender legs; people unconscious on the street; impulsive temptation; finding a niche in society; the 'walk of shame'; cigarettes and alcohol; the headlong hurtling to oblivion; and God only knows what else ... Several stories that seek to reveal a side to the island in a world outside the all-inclusive holiday resorts.