Book of the Month – March 2011
Anna Heussaff's detective novel Buille Marfach is the book of the month for March on ClubLeabhar.com.

Ní léite go pléite!
Discussion forum
The discussion forums are only available to registered members. Registration is free.
0 messages
Posted in this book's forum.
1204 messages
Posted in all forums to date.
If you are already registered, you can log in at the top of this page.

Glossary of the book
Available to registered members only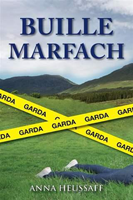 Buille Marfach
ISBN 978-1-905560-63-9
ClubLeabhar.com - Book of the Month, March 2011
Bestselling author's new crime novel in Irish
Aoife Nic Dhiarmada runs a holiday business on the enchanting Beara peninsula in the southwest. When Tessa, one of her guests, is found unconscious on a lonely road, Aoife's life takes a frightening turn.
A murder investigation soon follows, a media frenzy descends and ambitious Garda Réamonn Seoighe risks everything in pursuit of the killer. A gripping story that will captivate the reader until the very last page.