Book of the Month - September 2011
Nicholas Willam's translation of the famous children's book Alice's Adventures in Wonderland is the book of the month for September on ClubLeabhar.com.

Ní léite go pléite!
Discussion forum
The discussion forums are only available to registered members. Registration is free.
5 messages
Posted in this book's forum.
1204 messages
Posted in all forums to date.
If you are already registered, you can log in at the top of this page.

Glossary of the book
Available to registered members only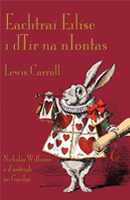 Eachtraí Eilíse i dTír na nIontas
Nicholas Williams a d'aistrigh go Gaeilge
ISBN 978-1-78201-125-5
ClubLeabhar.com - Book of the Month, September 2011
The book Alice's Adventures in Wonderland is a treasure of English children's literature and was first published in 1865. It has been translated into many languages. An Irish translation by Pádraig Ó Cadhla (1875–1948) was published in 1922 but no other Irish version has appeared since.
The present Irish version is a completely new translation by Nicholas Williams. K. Verschoyle drew the illustrations for Ó Cadhla's version, whereas this new book contains the famous illustrations of Sir John Tenniel, which first appeared in the original English edition.