Book of the Month - March 2010
Ruaidhrí Ó Báille's novel Dúnmharú ar an Dart is the third book chosen for discussion on ClubLeabhar.com.

Ní léite go pléite!
Discussion forum
The discussion forums are only available to registered members. Registration is free.
18 messages
Posted in this book's forum.
1205 messages
Posted in all forums to date.
If you are already registered, you can log in at the top of this page.

Glossary of the book
Available to registered members only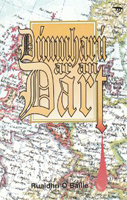 Dúnmharú ar an Dart
ISBN 1874700052
ClubLeabhar.com - Book of the Month, March 2010
Niall Ó Brien is unhappy and tired of his job as school teacher. He is tired of students like 'Dirty' Billy O'Rourke who brings Rottweilers to school for fun, and he is tired of parents who snipe at teachers they don't like. When he boards the Dart on his way to school one morning he doesn't know that it is the start of a trip which will take him around Europe and turn his life upside down.