Book of the Month - February 2013
An Litir, Liam Mac Cóil's epic novel, is the book of the month for February on ClubLeabhar.com.

Ní léite go pléite!
Discussion forum
The discussion forums are only available to registered members. Registration is free.
2 messages
Posted in this book's forum.
1205 messages
Posted in all forums to date.
If you are already registered, you can log in at the top of this page.

Glossary of the book
Available to registered members only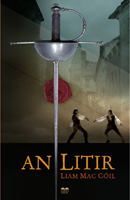 An Litir
ISBN 9780898332575
Galway, spring 1612. The city is up in arms with rumours, brutality and tyranny; the entire country is under English rule; Aodh Mór Ó Néill and the other Gaelic chieftains ar in Rome. Lúcas Ó Briain, a young Gaelwegian, is charged with a task that will take him far from his native city an a long and arduous journey abroad. Hot on his heels is the Sionnach, one of the cruellest and most brilliant spies with orders to stop Lúcas one way or another. This is the first in a trilogy of books which brings us across Europe in the company of Lúcas Ó Briain in the early years of the 16 century, with brutal enemies in pursuit.
Liam Mac Cóil reading an extract from "An Litir" February's book of the month on ClubLeabhar.com.