Book of the Month - January/February 2010
Pádraig Standún's novel Sobalsaol is the second book chosen for discussion on ClubLeabhar.com.

Ní léite go pléite!
Discussion forum
The discussion forums are only available to registered members. Registration is free.
10 messages
Posted in this book's forum.
1205 messages
Posted in all forums to date.
If you are already registered, you can log in at the top of this page.

Glossary of the book
Available to registered members only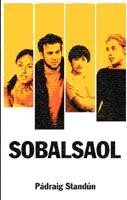 Sobalsaol
ISBN 1902420926
Mártan Mac Cormaic's marriage is in ruins, his job security is precarious and his fathering skills leave a lot to be desired. His life is a soap opera. This comes in quite handy since, as scriptwriter for the soap opera Béal an Chuain, he needs to draw regularly on his life for inspiration in his work, something he has no qualms in doing, much to the chagrin of some. His character is flawed, and human, which makes the reader inclined to identify and sympathize with him.
Standún's novels have always been praised for their unaffected dialogue and their credible characters, and these qualities come to the fore once again in Sobalsaol. Its characters are lifelike, their dialogue is lively and entertaining, and the scenarios are convincingly realistic, absorbing the reader in the fast-moving plot that follows the ups and downs of Mártan Mac Cormaic's life!