Book of the Month - January 2015
Mo Bhealach Féin, Seosamh Mac Grianna's autobiography, is the book of the month for January on ClubLeabhar.com.

Ní léite go pléite!
Discussion forum
The discussion forums are only available to registered members. Registration is free.
0 messages
Posted in this book's forum.
1205 messages
Posted in all forums to date.
If you are already registered, you can log in at the top of this page.

Glossary of the book
Available to registered members only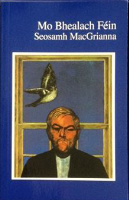 Mo Bhealach Féin
ISBN 1-85791-250-0
An honest outspoken account of his life by Seosamh Mac Grianna, a life that wasn't going according to plan, of his adventures in life and the people he met along the way.