Book of the Month - April 2016
Scáil an Phríosúin, Anna Heussaf's latest murder mystery, is the book of the month for April on ClubLeabhar.com.

Ní léite go pléite!
Discussion forum
The discussion forums are only available to registered members. Registration is free.
10 messages
Posted in this book's forum.
1205 messages
Posted in all forums to date.
If you are already registered, you can log in at the top of this page.

Glossary of the book
Available to registered members only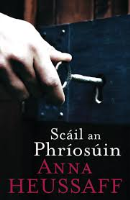 Scáil an Phríosúin
This book tells the story of two murders that have occurred in the same place, Kilmainham Gaol in Dublin. There is 100 years between the two crimes but what is it that ties them together?