Book of the Month - November 2016
An Grá Riabhach, a collection of short stories by Biddy Jenkinson, is the book of the month for November on ClubLeabhar.com.

Ní léite go pléite!
Discussion forum
The discussion forums are only available to registered members. Registration is free.
14 messages
Posted in this book's forum.
1205 messages
Posted in all forums to date.
If you are already registered, you can log in at the top of this page.

Glossary of the book
Available to registered members only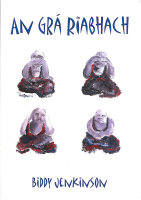 An Grá Riabhach
Do you understand the meaning of 'an grá riabhach'? Certainly you will have some idea by the time you've read this first collection of short stories (18 of them) from the pen of the wise word weaver. Follow the trail of the four monkeys...