Book of the Month - January 2019
This book from Déaglán de Bréadún is January's book of the month on Clubleabhar.com.

Ní léite go pléite!
Discussion forum
The discussion forums are only available to registered members. Registration is free.
22 messages
Posted in this book's forum.
1205 messages
Posted in all forums to date.
If you are already registered, you can log in at the top of this page.

Glossary of the book
Available to registered members only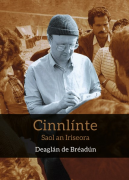 Cinnlínte: Saol an Iriseora
Saol an Iriseora
ISBN 9781907494581
In this book Deaglán de Bréadún shares his insights on the highlights of his career as a journalist with The Irish Times and latterly with The Irish Sun. We get to meet the big players on the international and national stage – Yasser Arafat, Boris Yeltsin, Mikhail Gorbachev, Charles Haughey, Ian Paisley and Brian Cowen. With his perceptive eye and uncluttered familiar style, he speaks openly about the challenges that face the journalist, particularly in wars and conflict zones, and demonstrates the possibilities of journalism: whether reporting on the misery of the Kurdish refugees fleeing Saddam Hussein, or the peace process in Northern Ireland. Young reporters and students of journalism and media will find much of interest here, from the tenacity and professionalism required in the field, to the comprehensive backdrop he provides to those events within the State and in the wider world from the 1970s onwards that have shaped our lives in the modern era.