Book of the Month - September 2012
An Béal Bocht by Myles na gCopaleen is September's book of the month on ClubLeabhar.com.

Ní léite go pléite!
Discussion forum
The discussion forums are only available to registered members. Registration is free.
11 messages
Posted in this book's forum.
1205 messages
Posted in all forums to date.
If you are already registered, you can log in at the top of this page.

Glossary of the book
Available to registered members only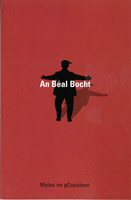 An Béal Bocht
ISBN 0853427 94 1
ClubLeabhar.com - Book of the Month, September 2012
One of the most well-known and appreciated Irish books ever written. Regarded internationally as a masterpiece, its popularity continues to grow over sixty years after its writing.
An extract read by Louis de Paor