Book of the Month - December 2020
A new edition of the famous comic book, Asterix agus an Corrán Óir, is December's book of the month on Clubleabhar.com.

Ní léite go pléite!
Discussion forum
The discussion forums are only available to registered members. Registration is free.
9 messages
Posted in this book's forum.
1205 messages
Posted in all forums to date.
If you are already registered, you can log in at the top of this page.

Glossary of the book
Available to registered members only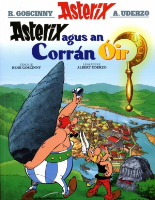 Asterix agus an Corrán Óir
ISBN 9781906587550
It's a disaster - the druid Getafix has broken his golden sickle. Asterix and Obelix go to Lutetia (now Paris) to buy him a new one. Soon they are tangling with the criminal underworld of the big city - can they outwit Navishtrix, Clovogarlix and the sickle-trafficking gang? Will Getafix ever be able to brew magic potion again?